School Route Plans Made Easy - The Guide (3rd updated edition)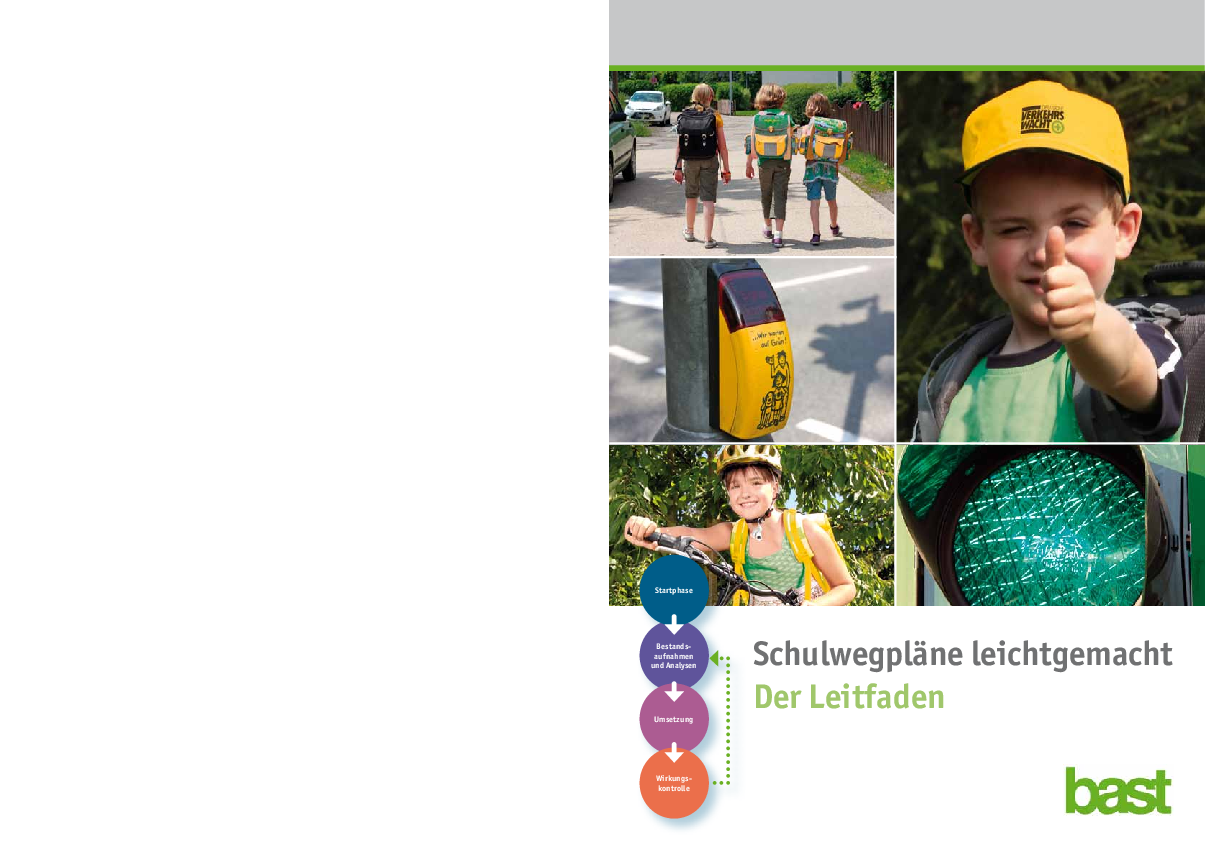 As part of the research project "Development, dissemination and application of school route plans", a guide for the creation of school route plans was developed. The guide describes the creation process in four steps in very concrete terms and enables even laypersons to recognize typical traffic safety problems. By providing all the necessary templates for the various work steps (including sample invitation to the first meeting, agenda, sample questionnaire, evaluation templates, checklists for the inspection, sample school route plan, road safety symbols), the work is greatly facilitated and focused on the individual and local aspects.
Guide
Tools and aids
For your practical work, we have compiled various templates, presentations, checklists and graphics. You can download these here:
Attachments in individual packages
Attachments start phase Attachment 1: Sample presentation for the persuasive work Attachment 2: Template for the invitation to the founding of the working group Attachment 3: Template agenda for the founding meeting Attachment 4: Template list of participants for the founding meeting Attachment 5: Template minutes for the founding meeting Attachment 6: Template project plan using the example of a secondary school

Attachments Inventory Enclosure 7: Information for pupils and parents Enclosure 8: Declaration of consent for the survey Enclosure 9: Cover letter and questionnaire for parents at elementary school Enclosure 10: Questionnaire for pupils at secondary schools Enclosure 11: Evaluation of the use of means of transport Enclosure 12: Evaluation of problem areas Enclosure 13: Checklists for school route inspections Enclosure 14: Template for estimating vehicle speed
Enclosures Implementation Enclosure 15: Templates for sample school route plan, different formats Enclosure 16: Template for legend Enclosure 17: Fictitious school route map for illustration Enclosure 18: Graphics for the school route plan
Download from the homepage of the Federal Highway Research Institute
Reference
The guide is available in printed form, free of charge from:
Federal Highway Research Institute Brüderstraße 53 51427 Bergisch Gladbach e-mail info@bast.de
If you do not have the possibility to download the attachments, they are also available on CD from the BASt.