Prof. Dr.-Ing. Jürgen Gerlach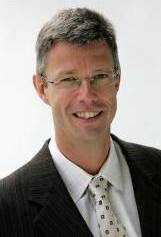 Telephon + 49 (0)202 / 439 - 4088
Fax + 49 (0)202 / 439 - 4388
E-Mail: jgerlach@uni-wuppertal.de
Room: HD 32a
The prosecutor in Duisburg appointed Univ.-Prof. Dr.-Ing. Jürgen Gerlach as an reviewer to deliver an opinion on the causes of the tragic occasions at the Love Parade 2010 in Duisburg. As a reviewer Prof. Gerlach is bound to secrecy. Therefore we ask to refrain from contact on all matters relating to the report and the Love Parade and refer to the prosecutor in Duisburg.
Curriculum Vitae (short version)
Curriculum Vitae (long version)

Focuses
Design and dimensioning of traffic infrastructure
Road safety
Environmental sustainability
Motorised individual traffic
Cyclist traffic
Pedestrian traffic
Activities
Research, teaching, practice
Trainer for Safety Audit of Roads
adh (Auditpartnerschaft der Hochschullehrer)
bast (Liste der Auditoren und Ausbildungsstellen)
Editor of the magazine for road safety ZVS (Zeitschrift für Verkehrssicherheit)

Head of the executive committee of the workgroup 1 "Traffic planning"
Member of the technical committee 1.2.9 "Instroductions for traffic-related development of (major-)events"
Member of the technical committee 1.3 "Network design"
Member of the committee 3 "Dimensioning of road traffic infrastructure (HBS)"
Member of the technical committee 2.6 "Stationary traffic"
Member of the technical committee 2.7 "Road safety audit"

DVWG Deutsche Verkehrswissenschaftliche Gesellschaft

Member of the Technical Committee C1 "Safer Road Infrastructure"
Executive Chair of Working Group C1.2 "Urban Roads"

EU Projects

Member of the Management Committee of the COST action 358 "Pedestrians Quality Needs"
Team Leader "Road Safety Audits and Inspections" of the Twinning Project "Enhancing Road Safety in Egypt"